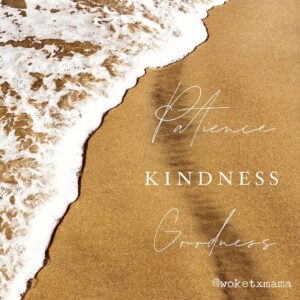 I asked if you noticed a change in people regarding masks. And after reading responses (sorry I couldn't fit them all), I think it's safe to say that these 𝙇𝙤𝙫𝙚-𝙮𝙤𝙪𝙧-𝙣𝙚𝙞𝙜𝙝𝙗𝙤𝙧 -𝙅𝙪𝙨𝙩-𝙬𝙚𝙖𝙧-𝙩𝙝𝙚-&$@!-𝙢𝙖𝙨𝙠-𝙏𝙝𝙚𝙮-𝙬𝙤𝙣'𝙩-𝙝𝙪𝙧𝙩-𝙮𝙤𝙪 face coverings are bringing out the worst in people. Seems Cathy O'Brien, survivor of MK Ultra mind control and author of TRANCE Formation of America, had it right.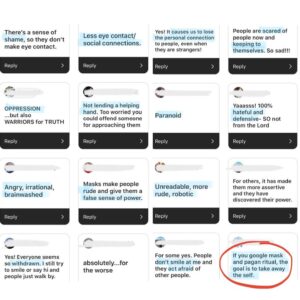 "𝐌𝐚𝐬𝐤𝐬 𝐝𝐞𝐩𝐞𝐫𝐬𝐨𝐧𝐚𝐥𝐢𝐳𝐞 𝚠𝚑𝚒𝚕𝚎 𝚖𝚊𝚔𝚒𝚗𝚐 𝚊 𝚙𝚎𝚛𝚜𝚘𝚗 𝚏𝚎𝚎𝚕 𝚊𝚜 𝚝𝚑𝚘𝚞𝚐𝚑 𝚝𝚑𝚎𝚢 𝚑𝚊𝚟𝚎 𝚗𝚘 𝚟𝚘𝚒𝚌𝚎. 𝙸𝚝 𝚒𝚜 𝚊 𝚋𝚊𝚛𝚛𝚒𝚎𝚛 𝚝𝚘 𝚘𝚝𝚑𝚎𝚛𝚜… 𝙼𝚊𝚜𝚔𝚜 𝚌𝚘𝚗𝚝𝚛𝚘𝚕 𝚝𝚑𝚎 𝚖𝚒𝚗𝚍 𝚏𝚛𝚘𝚖 𝚝𝚑𝚎 𝚘𝚞𝚝𝚜𝚒𝚍𝚎 𝚒𝚗, 𝚕𝚒𝚔𝚎 𝚝𝚑𝚎 𝚛𝚎𝚍𝚎𝚏𝚒𝚗𝚒𝚗𝚐 𝚘𝚏 𝚠𝚘𝚛𝚍𝚜 𝚒𝚜 𝚍𝚘𝚒𝚗𝚐. 𝙱𝚢 𝚌𝚘𝚗𝚝𝚛𝚘𝚕𝚕𝚒𝚗𝚐 𝚠𝚑𝚊𝚝 𝚠𝚎 𝚌𝚊𝚗 𝚊𝚗𝚍 𝚌𝚊𝚗𝚗𝚘𝚝 𝚜𝚊𝚢 𝚏𝚘𝚛 𝚏𝚎𝚊𝚛 𝚘𝚏 𝚋𝚎𝚒𝚗𝚐 𝚕𝚊𝚋𝚎𝚕𝚎𝚍 𝚛𝚊𝚌𝚒𝚜𝚝 𝚘𝚛 𝚋𝚎𝚊𝚝𝚎𝚗, 𝚏𝚘𝚛 𝚎𝚡𝚊𝚖𝚙𝚕𝚎, 𝐢𝐭 𝐮𝐥𝐭𝐢𝐦𝐚𝐭𝐞𝐥𝐲 𝐜𝐨𝐧𝐭𝐫𝐨𝐥𝐬 𝐭𝐡𝐨𝐮𝐠𝐡𝐭 𝐭𝐡𝐚𝐭 𝐝𝐫𝐢𝐯𝐞𝐬 𝐨𝐮𝐫 𝐰𝐨𝐫𝐝𝐬 𝐚𝐧𝐝 𝐮𝐥𝐭𝐢𝐦𝐚𝐭𝐞𝐥𝐲 𝐚𝐜𝐭𝐢𝐨𝐧𝐬 (𝚘𝚛 𝚕𝚊𝚌𝚔 𝚝𝚑𝚎𝚛𝚎𝚘𝚏). 𝙻𝚒𝚔𝚎𝚠𝚒𝚜𝚎, 𝚊 𝚖𝚊𝚜𝚔 𝚖𝚞𝚏𝚏𝚕𝚎𝚜 𝚘𝚞𝚛 𝚜𝚙𝚎𝚎𝚌𝚑 𝚜𝚘 𝚝𝚑𝚊𝚝 𝚠𝚎 𝚊𝚛𝚎 𝚗𝚘𝚝 𝚑𝚎𝚊𝚛𝚍, 𝚠𝚑𝚒𝚌𝚑 𝚌𝚘𝚗𝚝𝚛𝚘𝚕𝚜 𝚟𝚘𝚒𝚌𝚎…𝚠𝚘𝚛𝚍𝚜…𝚖𝚒𝚗𝚍.  𝚃𝚑𝚒𝚜 𝚒𝚜 𝙼𝚒𝚗𝚍 𝙲𝚘𝚗𝚝𝚛𝚘𝚕… 𝙋𝙚𝙤𝙥𝙡𝙚 𝙝𝙖𝙫𝙚 𝙨𝙩𝙤𝙥𝙥𝙚𝙙 𝙩𝙖𝙡𝙠𝙞𝙣𝙜 𝙬𝙞𝙩𝙝 𝙚𝙖𝙘𝙝 𝙤𝙩𝙝𝙚𝙧 𝚠𝚑𝚒𝚕𝚎 𝚖𝚎𝚍𝚒𝚊 𝚌𝚘𝚗𝚝𝚛𝚘𝚕𝚜 𝚝𝚑𝚎 𝚗𝚊𝚛𝚛𝚊𝚝𝚒𝚟𝚎."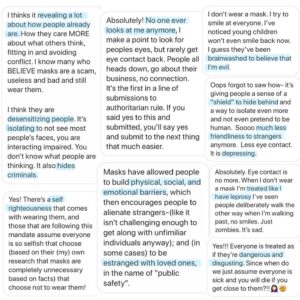 He who controls the minds of the masses, wins (Operation Mockingbird). Remember, God has given His children the spirit of power, love, and a sound mind. Fear is a spirit. And it is not from God.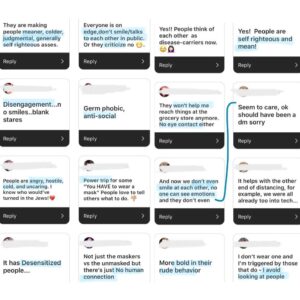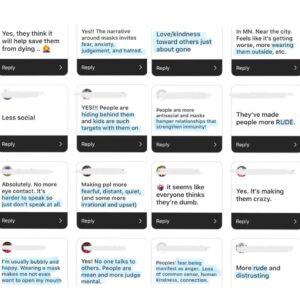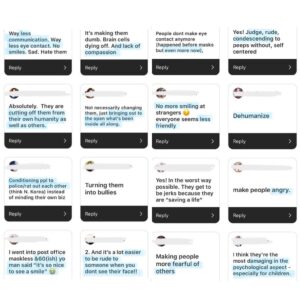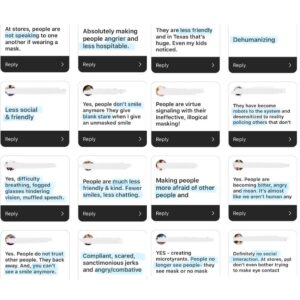 Some have said that Christ followers need to suck it up because it's the simple act of not wearing a mask that is unkind. However, your messages tell a different story. It seems the majority of hateful words are being hurled by those who've been convinced that mask wearing saves lives. The science simply doesn't support that perspective, but we've covered that to exhaustion.
"Love is kind. If it's not, it's something else." – Bob Goff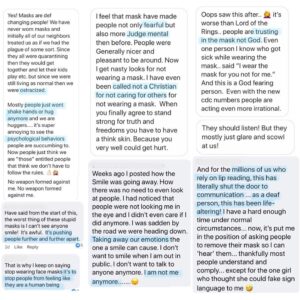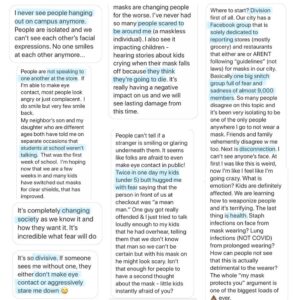 Aware of a bigger agenda, 𝐚𝐭 𝐰𝐡𝐚𝐭 𝐩𝐨𝐢𝐧𝐭 𝐝𝐨𝐞𝐬 𝐢𝐭 𝐛𝐞𝐜𝐨𝐦𝐞 𝐮𝐧𝐥𝐨𝐯𝐢𝐧𝐠 𝐭𝐨 𝐠𝐨 𝐚𝐥𝐨𝐧𝐠 𝐰𝐢𝐭𝐡 𝐭𝐡𝐞 𝐥𝐢𝐞𝐬?  SO many lies. The tactic for confusion is to throw us into chaos so that we beg for order (aka, more gov't control). Anything to go back to "normal". As Cathy says, "knowledge is our first line of defense against mind control." It's time for the great unmasking… And a return to kindness, chivalry, and compassion towards others.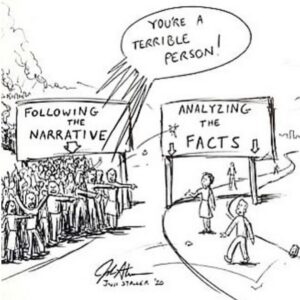 I'm praying for:
Eyes to see
Ears to hear
Humble hearts
Kindness restored
Hope renewed
Christ revealed
Souls saved
Amen!
woketxmama
⠀⠀⠀ ⠀
Source:  @realcathyobrien
https://trance-formation.com/the-great-unmasking/