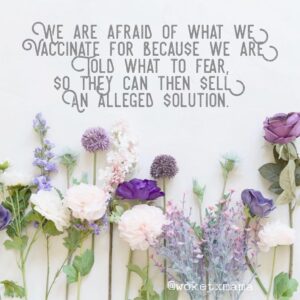 Where's the mass hysteria over the hundreds of cases of leprosy?
Oh, that's right, the media hasn't told us to panic.
⠀⠀⠀ ⠀
We are NOT vaccinated against:‬
‪Acinetobacter‬
‪African sleeping sickness (African trypanosomiasis) Trypanosoma brucei‬
‪AIDS‬
‪Amebiasis‬
‪Angiostrongyliasis Angiostrongylus‬
‪Anisakiasis Anisakis‬
‪Arcanobacterium haemolyticum infection‬
‪Argentine hemorrhagic fever Junin virus‬
‪Ascariasis‬
‪Aspergillosis‬
‪Astrovirus infection‬
‪Babesiosis‬
‪Bacillus cereus infection‬
‪Bacterial pneumonia (multiple bacteria)‬
‪Bacterial vaginosis‬
‪Bacteroides infection‬
‪Balantidiasis‬
‪Bartonellosis‬
‪Baylisascaris infection Baylisascaris species‬
‪BK virus infection BK virus‬
‪Black piedra‬
‪Blastocystosis‬
‪Blastomycosis‬
‪Bolivian hemorrhagic fever Machupo virus‬
‪Botulism‬
‪Brazilian hemorrhagic fever‬
‪Brucellosis‬
‪Bubonic plague‬
‪Burkholderia infection‬
‪Calicivirus infection (Norovirus and Sapovirus)‬
‪Campylobacteriosis‬
‪Candidiasis (Moniliasis; Thrush) usually Candida albicans and other Candida species‬
‪Capillariasis Intestinal disease by Capillaria philippinensis, hepatic disease by Capillaria hepatica and pulmonary disease by Capillaria aerophila‬
‪Carrion´s disease Bartonella bacilliformis‬
‪Cat-scratch disease Bartonella henselae‬
‪Cellulitis usually Group A Streptococcus and Staphylococcus‬
‪Chagas Disease (American trypanosomiasis) Trypanosoma cruzi‬
‪Chancroid Haemophilus ducreyi‬
‪Chikungunya Alphavirus‬
‪Chlamydia Chlamydia trachomatis‬
‪Chlamydophila pneumoniae infection (Taiwan acute respiratory agent or TWAR) Chlamydophila pneumoniae‬
‪Cholera Vibrio cholerae‬
‪Chromoblastomycosis usually Fonsecaea pedrosoi‬
‪Chytridiomycosis Batrachochytrium dendrabatidis‬
‪Clonorchiasis Clonorchis sinensis‬
⠀⠀⠀ ⠀
Plus the THOUSANDS of other infectious diseases that begin with the letters C-Z.
woketxmama