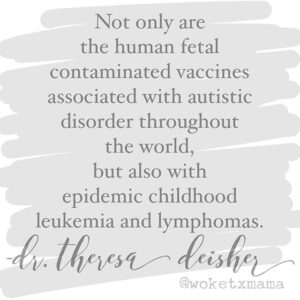 Them: But you're not a doctor. I only believe doctors.
Me: Well, what about Dr. Theresa Deisher?
Them: Well, not her…
Dr. Theresa Deisher has a PhD in Molecular and Cellular Physiology from Stanford University with over 20 years in commercial biotechnology, prior to founding AVM Biotechnology and Sound Choice Pharmaceutical Institute. As an inventor of 23 issued US patents she is world-renowned for her work in adult stem cell research and the first to discover adult cardiac derived stem cells. Dr. Deisher was a plaintiff in the US federal lawsuit to prohibit the use of taxpayer dollars for embryo destructive research, which resulted in steering science towards adult stem cell research and 14 US FDA approved adult stem cell products.
woketxmama