Warning: Big, long post ahead. Enter at your own risk. xo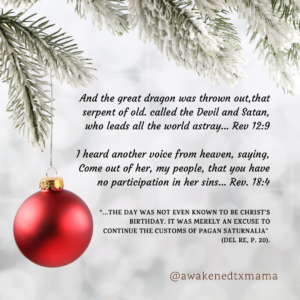 Our first year without *gulp* Christmas. I NEVER EVER in a million years thought I would be saying those words! Ever. Neither would ANYone who really knows me. Sigh… I know. I KNOW! How could a believer NOT celebrate Christmas?  This is where I lose half of you, right?  Believe me when I say that this topic has been HARD on this mama. I was even tempted NOT to share…
I know what you're thinking. Oh, she's one of those Christians. I get it. I've been there, too! But before you go down that path, first allow me to introduce myself…
Until Christmas 2021, I was Ms. Christmas: open house each year my husband pastored, entire month of December off of homeschool to soak in ALL things Christmas with our children, new ornaments to commemorate family vacations, Christmas music playlist, decorating multiple trees – and always the last weekend in October, ALL the cheesy Christmas movies, December birthday money spent on Christmas decor, building traditions with our children, Operation Christmas Child boxes, caroling, theatre productions, choir performances, Happy birthday Jesus cakes, multiple nativity sets, family pictures for Christmas cards, Christmas Eve candlelight services, Christmas cookies while looking at Christmas lights…
Do you get the picture??! This is no small thing for me! And to be completely transparent, these past several months have felt like spiritual heart surgery, accompanied with Texas-sized tears and a few sobs.
But when the Father opens your eyes, it's a whole new perspective! I haven't yet formed the words to describe the hunger and understanding I've found in the Bible this year. (I found THIS teaching to be very helpful!) No, I'm not part of a cult or "movement". Questions I've had for many years are simply coming into focus. It's beautiful… and oh-so-painful and hard! But with biblical understanding, life application becomes clear. It's time to walk it out in obedience.
While my daughter was preparing for a Bible study, she asked me, "How do you know it's love? Without hesitation, I responded, "When it's uncomfortable."
The answer surprised me, too! But the more I thought about it, the more sense it made! Love requires action, which can take us out of our comfort zones. And I had no idea that I was about to get very uncomfortable. HOWEVER, when tradition is taking priority over what my Father is showing me, tradition has to go.
With clenched fists, holding tight to my well-intentioned traditions, I was reminded that if I'm having so much trouble letting go of my traditions, it has become more about me and a little less about Him. Ouch! The Father has simply reminded me what HE says about paganism and His worship – and that (even though my intentions are good) only HE has the authority to determine how people should worship Him.
You must not worship the Lord your God in their way. Deut. 12
I simply wanted you to know (some of) my journey — Not just information in a dry post, where tone and intent get lost in text — and where it can come across as "do as I do or feel shaaaame!"  I've poured many hours into this. And as we've shared with our children, we would not make such a huge change without a LOT of research and conviction.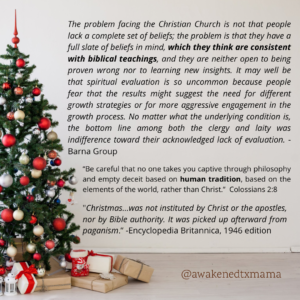 I'm certainly not asking you to blindly follow. If interested, I would simply invite you to truly research this for yourself Bring it to the Father in prayer. We simply need to be asking more questions. Dig in His Word to understand what He truly has to say about it — minus the opinions of man (especially opinions found in mainstream churches).
This is my personal journey. This is NOT to ruin the season for anyone, but to press into truth, as I've done repeatedly in this space. He says truth sets us free. And from what I'm learning so far, HIS appointed times (Lev. 23) are far more beautiful and richer than ANYthing this world has to offer. I'm looking forward to learning more about those! (Quick read to get you started: Biblical Feasts)
"Keep Christ in Christmas," they say. I'm not called to Christianize Saturnalia. No, He's calling me not to participate at all. (If you're on Instagram, please see my Christmas highlight to hear my journey.)
If interested, here are several bullet points and video links to get you started on your own research journey… Much love. xo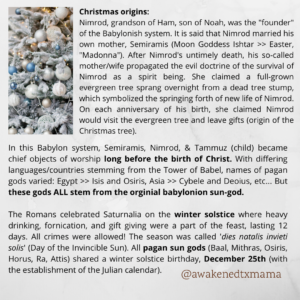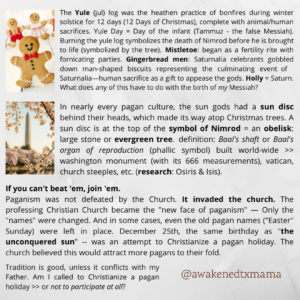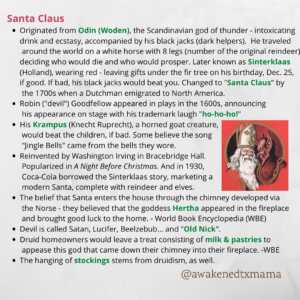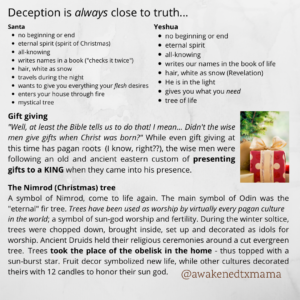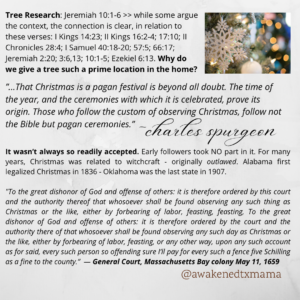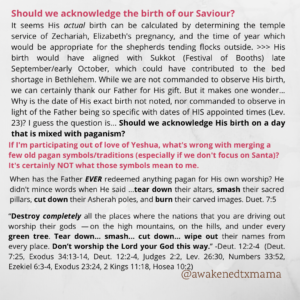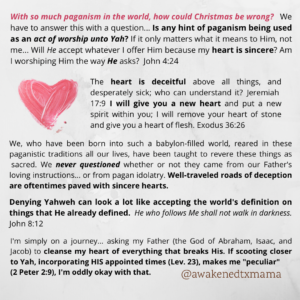 History of Religion (pt 1) – Truth Uneditedhttps://youtu.be/PdsJs0UIm7sTruth or Traditionhttps://youtu.be/pwg11nFNT68More Truth or Traditionhttps://youtu.be/Lg5-v0SPRgkExposed: How Satan infiltrated Christianity with Christmashttps://youtu.be/aBXWMb_Er90Let the Christmas trees rejoicehttps://youtu.be/obOJ3LdzdHMHosea's Christmas tree (understanding the Israelites)https://youtu.be/VQDas_Zpj4wGreen Treehttps://youtu.be/AWSEGQdqTskKirk Cameron's 'Saving Christmas' 119 Ministries review (common defenses)https://youtu.be/_cTPUcCXcS0Another rebuttal for Kirk Cameron's saving Christmashttps://youtu.be/3QexaZtdJoEThe Truth About Christmas (via End Times Prophecy)https://youtu.be/7b88Pr7IMMQPhilia Ministries, Roman Roots (Holidays)https://youtu.be/Lu4pcgvNRVcWhy we quite Christmas (and what we do now) Heavenly Mindedhttps://youtu.be/LSKvbQdEmMQAbout Christmas (Alan Horvath)https://youtu.be/8vU1BUB7JG4The Christmas Questionhttps://youtu.be/Yei17uJeKuwIs Christmas biblical?https://youtu.be/wblrUFWxrogThe Truth of Christmas (Almond House)https://youtu.be/uhygfDIWFmo
Pat Robertson admits Christmas is Pagan
https://youtu.be/-FvT2wzKTmo
Plea of Consideration about Christmashttps://youtu.be/GuiCxBeeXWY
Great points made here.