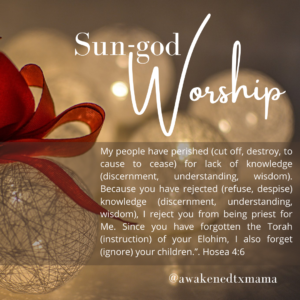 My husband and I thought for
SURE
, I'd lose at least half of you with my last post. But instead, I've somehow gained new faces (welcome!) and those who disagree have (mostly) stuck with me, responding respectfully. Distanced, but respectful.
I remember hearing rumors of "holiday" ties to paganism years ago from an odd young couple at church, but brushed it aside because… well, that's not what it means to ME so then surely what the Father said in the "old" testament about His worship didn't apply. Right? After that awkward chat, we left Sunday service to color/hunt eggs with our children.  Oh boy… THAT'S how disconnected I was.
This people draw near to Me with their mouth, and respect Me with their lips, but their heart is far from Me. 'But in vain do they worship Me, teaching as teachings the commands of men.' Matthew 15:8-9
People have asked, "How did the church get it so wrong in 2020?!"
THIS is how. Frog in the boiling pot. Generations of inherited religion and traditions, compromise after compromise… until we cannot recognize an idol, even when we drag it into our homes and churches, decorate it ourselves, and give it a prime location. This is not me shaming anyone. I was right. there. with. you. If you listened to my Christmas highlight, you get a feel for just how hard this has been.
My people have perished (cut off, destroy, to cause to cease) for lack of knowledge (discernment, understanding, wisdom). Because you have rejected (refuse, despise) knowledge (discernment, understanding, wisdom), I reject you from being priest for Me. Since you have forgotten the Torah (instruction) of your Elohim, I also forget (ignore) your children." Hosea 4:6
Is the birth of our Savior beautiful and deserving of awe, wonder and thankfulness? ABSOLUTELY!! Praise Him for His wonderful, life-changing, gift! The question remains… Should our worship be mixed with paganism? History is important.
Yah gives CLEAR instructions on NOT mixing His worship with paganism, and if I'm doing the opposite, it's time to take a long look in the spiritual mirror. Was I serving the God of Abraham, Isaac, and Jacob found in my bible? Or was I getting caught up in the traditions of men?
The answer was clear…
Though none go with me, still I will follow… no turning back. Be careful not to substitute the opinions of your pastor, friend, or favorite social media influencer with what is clearly spelled out in Yah's Word. We only need discerning eyes to see… and ears to hear.
Blessings, friends. xo