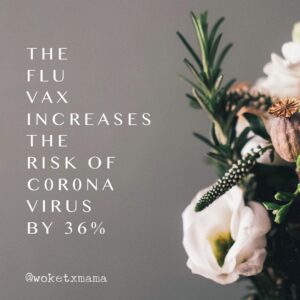 If the flu vax INCREASES the risk of c0r0na virus by 36%, what goodies are in store for us when the newest R0na vax arrives?! Just asking. Nothing to see here, my friends…
⠀⠀⠀ ⠀
It would be interesting to note deaths contributing to c 0v i D numbers in individuals recently vaccinated with influenza.
⠀⠀⠀ ⠀
Just a little flu vax 101 — Most of the influenza vaccines in use in the U.S. are injectable, inactivated vaccines that are made using chicken embryos, insect cells, or dog kidney cells. Who wouldn't want that?!  Depending on the manufacturer, some contain an adjuvant which hyper-stimulates the immune system (hello autoimmune issues) to produce a stronger antibody response. Injectable influenza vaccines packaged in multi-dose vials contain the mercury preservative thimerosal, and inactivated influenza vaccines packaged in single dose vials are either "thimerosal-free"  or contain "trace amounts" of the mercury preservative, while the live attenuated nasal vax contains no thimerosal (but a host of other ingredients).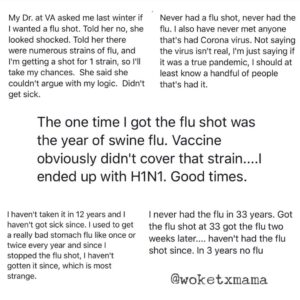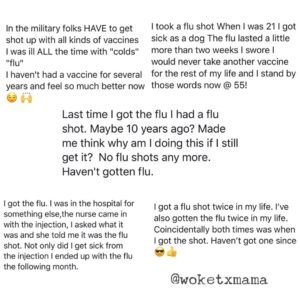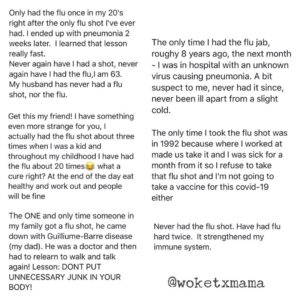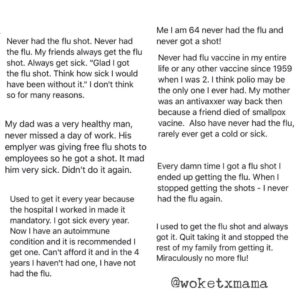 ⠀⠀⠀ ⠀
https://www.nvic.org/vaccines-and-diseases/Influenza/quick-facts.aspx
https://www.nvic.org/vaccines-and-diseases/Influenza/vaccine.aspx
https://childrenshealthdefense.org/news/is-there-a-relationship-between-influenza-vaccination-and-covid-19-mortality/
https://childrenshealthdefense.org/news/vaccine-misinformation-flu-shots-equal-health/
Pentagon Study: Flu Shot Raises Risk of Coronavirus by 36% – The 21st Century (21cir.com)