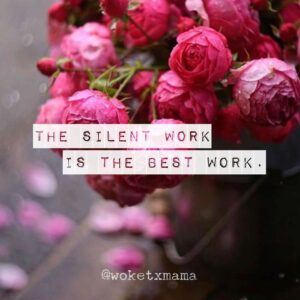 Most of the time nobody is gonna see the work you do.
⠀⠀⠀ ⠀
Nobody is gonna see you read that book, say that prayer, or send those texts to check on your friends. Nobody is gonna see the money you donate, the hard conversations you dig into, or the research you do.
⠀⠀⠀ ⠀
Nobody is gonna see you teach your kids, stop hateful dialogue, or quietly build bridges. Nobody is gonna see you check your own heart and clean out the junk BUT DO IT ANYWAY.
⠀⠀⠀ ⠀
People don't always need to see you plant the seed, they just need to see the good fruit it produces.
⠀⠀⠀ ⠀
Just a little encouragement to do the silent work. It's usually the best work.
-Amy Weatherly
⠀⠀⠀ ⠀
This rings true in sharing the gospel and with advocacy. Every seed planted will not take root… some people are just NOT ready to hear.
"He who has ears to hear, let him hear!" Mark 4:9
But we are tilling the ground, cultivating the next step in seed planting – possibly making it a tad easier for the next seed planter.
⠀⠀⠀ ⠀
And above all these put on love, which binds everything together in perfect harmony. Colossians 3:14
God sees. He hears. He bottles every tear.
I pray He finds me faithful…
woketxmama