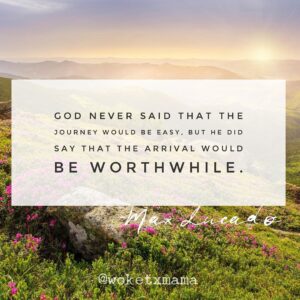 When family and friends argue and belittle, it's hard. The backlash of cognitive dissonance, when you're one of the first ones planting seeds of doubt in a life-long belief, can be downright ugly. Without ever reading a full vax insert, they have established vaccination as savior – at the expense of relationship.
⠀⠀⠀ ⠀
I've read your messages. God sees your tears, my friends. Nothing is wasted. If your warnings fall on deaf ears, simply plant the seed, change the subject, and give it to God. "Let anyone who has ears… listen." Not all are ready to hear.
⠀⠀⠀ ⠀
But for those who WILL listen, please be encouraged. NOW is the time to find your voice. If you've been too shy to speak up, start with silent advocacy (planting literature everywhere you shop). You've got this!
⠀⠀⠀ ⠀
To help with those difficult conversations, maybe the CDC will help market the new EMPATHY VACCINE I've been working on, causing loved ones to respond with grace.  Ingredients and adverse reactions below… So healthy, no testing is needed! No babies, pregnant mamas, or animals harmed in the making or distribution!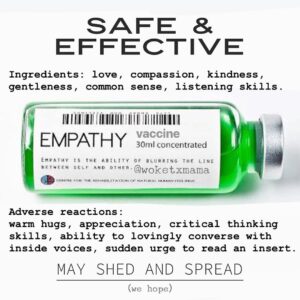 God never said that the journey would be easy, but He did say that the arrival would be worthwhile. – Max Lucado
⠀⠀⠀ ⠀
The Christian life is not a constant high. I have my moments of deep discouragement. I have to go to God in prayer with tears in my eyes, and say, 'O God, forgive me,' or 'Help me.'" –Billy Graham
⠀⠀⠀ ⠀
If you believe in a God who controls the big things, you have to believe in a God who controls the little things.  It is we, of course, to whom things look 'little' or 'big'."–Elisabeth Elliot

Therefore we do not lose heart. Though outwardly we are wasting away, yet inwardly we are being renewed day by day. For our light and momentary troubles are achieving for us an eternal glory that far outweighs them all. So we fix our eyes not on what is seen, but on what is unseen, since what is seen is temporary, but what is unseen is eternal."
–2 Corinthians 4:16-18
⠀⠀⠀ ⠀

For I am convinced that neither death nor life, neither angels nor demons, neither the present nor the future, nor any powers, neither height nor depth, nor anything else in all creation, will be able to separate us from the love of God that is in Christ Jesus our Lord.
–Romans 8:38-39

Blessings,

woketxmama