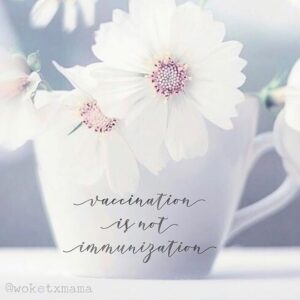 Vaccination is not immunization.
⠀⠀⠀ ⠀
Did you know that immunization has nothing to do with vaccination? We immunize ourselves through natural exposure to viruses all around us, building lifelong antibodies. God, our creator, designed a rather robust immune system – immunization without vaccination. When building immunity, gut health is a great place to start.
⠀⠀⠀ ⠀
Vaccination, a man-made toxic brew of aborted fetal cells, dog kidney, aluminum, polysorbate 80 & 20, calf serum, egg components, etc., cripples the immune system, making us vulnerable to other infections. Injection, an unnatural pathway, may give short-term, artificial antibodies, but at what cost? MS, eczema, seizures, encephalitis, transverse myelitis, otitis media, diabetes 1, asthma, food allergies, leukemia, ADD, ADHD, autism… and even death.
⠀⠀⠀ ⠀
Did you get flu shots in previous years? That means your immune system is less able to defend you against flu this year.
⠀⠀⠀ ⠀
…participants who were previously vaccinated mounted a significantly less robust (immune) response when compared with those who were unvaccinated. …participants that were previously vaccinated, (antibody) titers were significantly less robust after vaccination… which indicated that an influenza vaccination in the previous season diminished the vaccine-induced antibody response in the following year…"
⠀⠀⠀ ⠀
https://www.infectiousdiseaseadvisor.com/home/topics/respiratory/influenza/repeated-vaccination-against-influenza-may-contribute-to-diminished-response/
⠀⠀⠀ ⠀
When I visited our new family doctor 2 yrs ago, his first questions were: How is the stress in your life? Are you eliminating? How is your marriage? Do you know your vitamin D levels? Are you sleeping at night?
⠀⠀⠀ ⠀
There was no mention of being current on vaccines. Even though his little government run clinic was covered in vax advertising, he personally calls them "trash."
⠀⠀⠀ ⠀
If we care for our immune systems, our immune systems will care for us. We can start by avoiding vaccination. Amen?!
⠀⠀⠀ ⠀
What do you do to maintain your family's immune systems?  Especially during "less-sunlight-high-sugar-intake-season" – err, I mean "flu season.
woketxmama