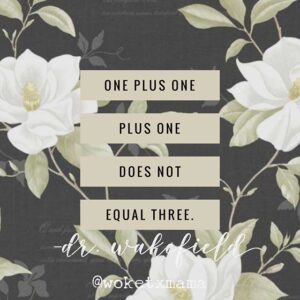 One plus one plus one does NOT equal three. -Dr. Wakefield, The Truth About Vaccines
⠀⠀⠀ ⠀
During vaccination, the body is required to fight a toxic soup of illnesses at once, including a possible mixture of: varicella, hepatitis A, Japanese Encephalitis, German measles, pneumococcal, pertussis, cholera, hepatitis B, measles, polio, shingles, diphtheria, Haemophilus Influenzae Type B, Meningococcal, tetanus, yellow fever, influenzas, mumps, rotavirus, typhoid fever… for starters.
⠀⠀⠀ ⠀
The following is an excerpt taken from the Journal of American Physicians and Surgeons, Combining Childhood Vaccines at One Visit Is Not Safe, Summer 2016 Vol. 21
⠀⠀⠀ ⠀
Our study showed that infants who receive several vaccines concurrently, as recommended by CDC, are significantly more likely to be hospitalized or die when compared with infants who receive fewer vaccines simultaneously. It also showed that reported adverse effects were more likely to lead to hospitalization or death in younger infants.
⠀⠀⠀ ⠀
The safety of CDC's childhood vaccination schedule was never affirmed in clinical studies. Vaccines are administered to millions of infants every year, yet health authorities have no scientific data from synergistic toxicity studies on all combinations of vaccines that infants are likely to receive. National vaccination campaigns must be supported by scientific evidence. No child should be subjected to a health policy that is not based on sound scientific principles and, in fact, has been shown to be potentially dangerous.
⠀⠀⠀ ⠀
Undesirable outcomes associated with childhood vaccination can be reduced by requiring national vaccination policies to be supported by scientific evidence, holding vaccine manufacturers accountable when their products harm consumers, urging major news outlets that rely on pharmaceutical advertising revenue to change their business models so that crucial scientific research, regardless of how controversial it may be, is widely disseminated into the public domain. Meanwhile, the evidence presented in this study shows that multiple vaccines administered during one visit, and vaccinating young infants, significantly increase morbidity and mortality.
woketxmama