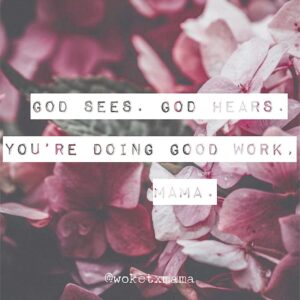 Hallmark gives me all the emotions in this commercial. Might want to grab some tissues.
pt 2
⠀⠀⠀ ⠀
Her children rise up and call her blessed… Proverbs 31:28
You're doing good work, mama.
⠀⠀⠀ ⠀
I see you running this race, trying to keep up the pace.
Raising your voice, screaming — We want medical choice!
⠀⠀⠀ ⠀
One hand holding a sign "made with aborted fetal cells" –
the other holding mine, wondering what history will tell.
⠀⠀⠀ ⠀
This message is important, exhausting at times.
I see it in your face – they should pay for their crimes.
⠀⠀⠀ ⠀
To open the eyes of a loved one, a stranger, a neighbor, is the goal.
Alerting the masses can take its toll.
⠀⠀⠀ ⠀
When you tuck me in at night, although I don't say it,
you're a blessing to me. God's definition of beauty.
⠀⠀⠀ ⠀
Keep fighting the good fight. Let's finish this race.
The Lord goes before us. Let's pause in His embrace.
⠀⠀⠀ ⠀
Lean on me, says the Lord. See the enemy flee.
Vengeance is coming – let it be with Me.
woketxmama