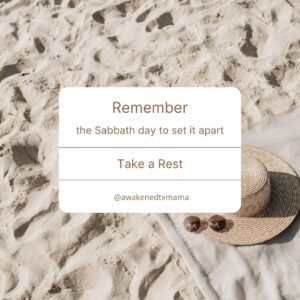 This post came to fruition because of several questions I've received. While there is not enough space to cover this topic completely, my hope is that you will simply seek the Father's heart. Read His words. As with anything, question the narrative. If we believe deception runs deep in the world, shouldn't we be more on guard as believers with what has been passed down to us?
I'll be brutally honest. Just like my holiday journey (peep those Christmas highlights on Instagram for a near ugly cry), giving an entire Sabbath each week has NOT come easy. Hubs and I have few hours in which we can work on our massive project list together. And all I could think in the beginning was what I'd have to give up. Crazy, I know.
But as time has passed and I find myself diving deeper into the heart of His words, once again, without the megaphone of man-made religion, I'm beginning to see that what Yah has purposed for us is beautiful, peaceful, and oh-so-needed. Such a wonderful gift, especially in the midst of current events. I now look forward to this day. Permission to be still and behold.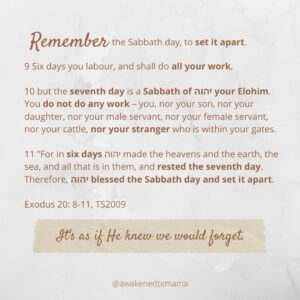 The most common question I've received is — Are you part of the Hebrew Roots Movement? I knew nothing of a "movement" when I began connecting these dots by simply reading my Bible. I don't put a label on myself. No longer serving as a pastor's wife in the local church, I've simply started asking more (interpret as, better) questions.
Sabbath. That command always puzzled me. It was always depicted as a hurried Sunday service, and maybe: restaurant dining, shopping, errands, yard work, sports games, and possibly even a nap. There was nothing ever mentioned of the Father's heart for Sabbath, this world's bend towards sun-god worship, buying & selling, or causing others to work.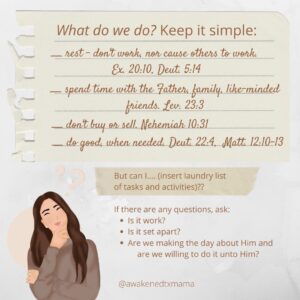 For me, it's not about checking a righteous to-do list. If I've missed out on relationship, I've missed the entire point. Sometimes I wonder if our lives sound like "blaring brass or a cymbal clanging" (1 Cor. 13) in the ears of the Father as well, when we shout instructions and opinions without love.
All I know is that my thoughts and conversations should point towards Him. More of Him and His ways… and much-much less of this world's.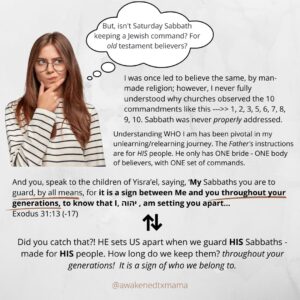 Why share this type of information on an advocacy account, you ask? Because we can become so wise about the ways of this world and it would mean nothing if we didn't understand the heart of the Father in the end. I'm simply sharing a tiny peek into some of my personal journey. I hope this helps those beginning to ask deeper questions, too.