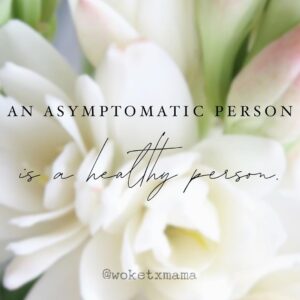 When you tell family & friends that Surgeon General Jerome Adams, Dr. Judy Mikovits (videos censored), and even Dr. Fauci (https://youtu.be/PRa6t_e7dgI ) have stated that we don't need to wear masks and they STILL aren't convinced, here are a few links to share. Truth in love.
⠀⠀ ⠀
https://www.technocracy.news/blaylock-face-masks-pose-serious-risks-to-the-healthy/
Dr. Eric Nepute
https://youtu.be/lYLJR6FqZPM
One of many studies:
https://pubmed.ncbi.nlm.nih.gov/32405162/?fbclid=IwAR25MaLMSvZWPhX9kcMHQQzH932ZMLoBG0e5Eqn69_OkYFvYvDxta3oJ1yA
https://www.businessinsider.com/who-no-need-for-healthy-people-to-wear-face-masks-2020-4
Neurosurgeon Says Face Masks Pose Serious Risk to Healthy People
Healthy People Wearing Masks, Should They or Shouldn't They?
https://www.sciencetimes.com/articles/25713/20200518/wearing-face-masks-potentially-harmful-trap-exhaled-viruses-well-individuals.htm
https://www.sciencemag.org/news/2020/02/paper-non-symptomatic-patient-transmitting-coronavirus-wrong?fbclid=IwAR2CDVkL-r-SnIiWVJx2P8Oly7-fxW5QdEl188Nv60dpclII08d3UV-4ef4#
⠀⠀⠀ ⠀
https://checkthedata.blogspot.com/2020/05/the-asymptomatic-covid-myth.html?m=1
⠀⠀⠀ ⠀
And then repeat after me… ?? ???????????? ?????? = ? ??????? ??????.
⠀⠀⠀ ⠀
A New England Journal of Medicine article shared the story that asymptomatic people were spreading the virus. Turns out, after speaking with the patients, they HAD SYMPTOMS. ??? ????? ??? ??????.
⠀⠀⠀ ⠀
LONG before this pLandemic, we were sᴡɪᴍᴍɪɴɢ ɪɴ ᴠɪʀᴜsᴇs, including c o r o n a v i r u s e s. Health is an inside out attack. Let's give our God-given immune systems more credit… and support.
woketxmama